Indiana Regional Imaging is located in Merriville, IN. Our State-of-the-Art Equipment allows us to specialize in CT, PET/CT scans, 3D Mammography, Ultrasounds, Breast Biopsies and Bone Density scans.
What is a 3D Mammography?
Breast tomosynthesis allows doctors to examine breast tissue one layer at a time. Breast tomosynthesis is a new technology in the fight against breast cancer. Breast tomosynthesis may be used in conjunction with traditional digital mammography as part of your annual screening mammogram to capture more breast images. Very low X-ray energy is used during the screening examination so your radiation exposure is safely below the American College of Radiology (ACR) guidelines. Using breast tomosysnthesis and digital mammography together for screening has been proven to reduce "call backs". Breast tomosynthesis may be used for a diagnostic mammogram if you happen to need one.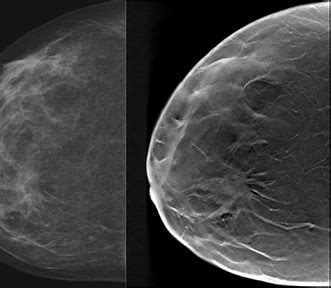 Benefits of a 3D Mammogram
More accurate detection: By minimizing the impact of overlapping breast tissue, 3D mammography can make a tumor easier to see. Reviewing multiple images has helped doctors find more cancers than with 2D images alone.
Please do not wear any lotion or deodorant the day of your exam. We will have some for you to put on after exam.
Because any x-ray procedures use radiation, including mammography, there is some small risk of radiation side effects to the body. The normal amount of radiation administered in a mammogram is exceptionally low and has been approved by national and international regulatory agencies as well as the National Department of Health and Human Services.
The technologist sends your breast images electronically to the radiologist, who studies them and reports results to you and your physician. Our physician will personally provide you your results.
We are here to take care of you. After all it is all about you !
Please Call Us: 219.793.9655
If you choose our facility we will do everything in our power to serve you in your diagnostic needs. We are her to SERVE YOU!!! If there is anything we can do for you at anytime please do not hesitate to call or email us. We know that you have several choices of where you can obtain your scans and we are thankful you chose us.
We will obtain your previous exams for comparison. Just give us a call or have your doctor give us a call and we will take care of the rest.
Visit Indiana Regional Imaging Center for additional imaging services Digital Medical Imaging - Comprehensive Breast Care Centers Proud of being a 100% digital medical facility.